OFF-GRID SELF-CATERING HOLIDAYS,
IN AN ISOLATED LOCATION
HIGH ON SHAP FELL
Due to Covid restrictions WE DO NOT PROVIDE KITCHEN EQUIPMENT, CROCKERY AND CUTLERY or BEDDING. We carry out a very thorough cleaning and hygiene routine between lettings, and provide a detailed breakdown of that routine for the benefit of visitors. Some information on this website is not applicable while restrictions are in place. 
Please see AirBnB pages for current details. Airbnb. Please Note: Movement Restrictions apply during Lockdown
Shap Fell Bothy is a beautifully unique building on Shap Fell in the eastern Lake District, Cumbria. Staying there is best described as indoor camping, an adventure! Our reviews will tell you how much people have enjoyed it, and we currently have a 5-star rating on Airbnb.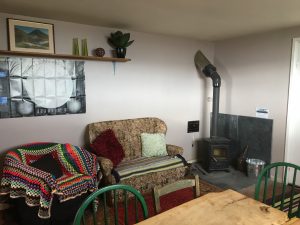 During your stay you will have exclusive use of the Bothy. The building is off-grid and has two floors: downstairs a cosy living area with wood-burner and cooking facilities; upstairs a sleeping area with view of the night sky. The accommodation sleeps max eight people, with the starting price based on four sharing. Dogs are welcome.
Shap Fell Bothy is located on Shap Fell, Cumbria, by the A6 road at 1390 ft above sea level, 10 minutes by car from Junction 39 of the M6 motorway, and 20 minutes from Kendal.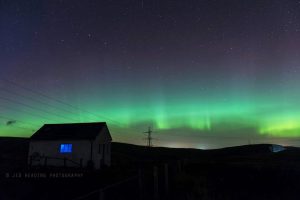 The Bothy has been converted to a camping barn from an old telephone repeater station. It is surrounded by moorland and there are no houses or neighbours for miles around. The nearest village with shops is Shap, about 6 miles away.  Situated on the main route from John O' Groats to Land's End, the Bothy is suitable for long distance walkers and cyclists,  also mountain bikers, ramblers, bird watchers, astronomers, weekend retreats, music practice, or simply for a unique overnight stay.  The nearest house is a mile away, so you can make as much noise as you like. (Oh yes…)
The back gate opens onto public access common land, and there are public footpaths and bridleways across the moorland within 100 yards. The Bothy has a roof-window and is an ideal place for star-gazing, as there is an exceptionally low and wide horizon, and low light pollution.  
The property is completely off-grid i.e. it is not connected to the electricity grid and has no running water. Lighting and low-usage power (e.g. for phone/laptop-charging) is supplied by wind and solar. Drinking water and water for washing etc are provided (water can be heated on gas ring or the woodstove). Toilet facilities consist of a Portaloo chemical toilet cubicle outside.
Facilities are basic – best described as indoor camping. The accommodation downstairs consists of a main living room with wood-burning stove, tables and chairs; a kitchenette with caravan-type gas cooker (two rings and a grill); a washroom with small sink; and a hallway with coat hooks and space for boots.
Upstairs is a lovely sleeping/lounging area, fully carpeted, with roof windows, ambient lighting and low comfortable seating. Heating is provided by a gas heater.
Please note: The landscape is bare high moorland, with no trees nearby, and there are power lines a few hundred yards away.  The road can be busy in the mornings, but it usually quietens off by about 9.00 am, and it is exceptionally quiet at night.
NB: Under Covid Restrictions, WE DO NOT PROVIDE BEDDING. Please bring your own.
Website maintained by Bill Lloyd. www.billlloyd.co.uk